Office Security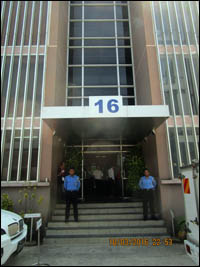 Office-rooms of the company need the skillful security team to protect completely from the aggressors who can destroy the office rooms in such ways: destroying the office and things inside, stealing, making fire, mining and making explosions. To secure these situations, the followings are being served -
(1) Making the limited areas not to be able to approach by the aggressors to the office buildings. Using locked-systems.
(2) Making systems to know if someone passes the barriers illegally. (Eg: wearing security cards, setting up the CCTV)
(3) Planning in advance to response and arrest immediately as soon as the aggressions are known.
(4) Making agendas for the precautions of the possible natural disasters.
(5) Besides the security-checks to people who can enter the office, making financial-talks occasionally.
(6) Besides limiting for the permit to In/ Out, specifying the another limited areas and allow only the authorized persons.
(7) Checking around by the officials to know whether the security systems work regularly or not.